Statewide Imagery Services Program is Up and Running!
Both 1 foot and 6 inch imagery are available via Valtus imagery access service portal.
To sign up, complete the Statewide Imagery Data Service Level Agreement (SLA) and forward it to Joanne Markert at joanne.markert@ocio.wa.gov.
Who is already participating?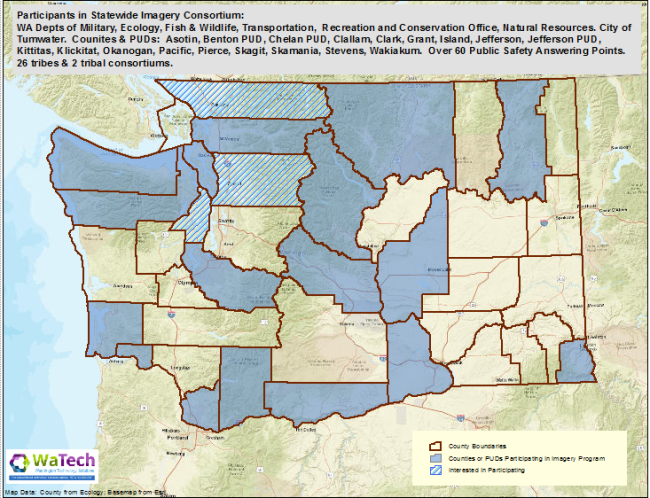 Want to participate?
Contribution Levels per Year
State Agencies $10,000

Counties $6,000

Tribes $5,000

Cities $3,000
Background
Business Driver
Orthoimagery serves as a seamless base map layer which is critical in our ability to derive other information. The detail and richness of the information captured on a registered image supports many business uses and users at the state, tribal and local governmental levels.
The request for a statewide imagery service acquisition was made by the state E9-1-1 and the WA Association of County & City Officials (WACO). Outreach to the state user base started seriously in May 2016.
The OCIO's Geospatial Program Office (and its predecessor's) have coordinated these acquisitions since 2006. These help all governmental entities to save money by leveraging their buying power. It also gets all users in government access to this valuable information either via the
Geospatial Portal
or the vendor's website.
Overview and Potential Benefits
This provides all governmental entities and named contributors with access to imagery at a fraction of the cost. If contracted by the state, this level of data accuracy would cost the state upwards of 1.3 million to acquire. By using existing data already captured, we're able to significantly lower our cost of entry and save money across the state.
The benefits include
High quality, consistent product that's useful across all levels of government

Maximizes limited resources (funding, time, staff, infrastructure)

Minimizes duplication of effort (planning, coordination and data processing, distribution and storage)

Leverages the state's Geospatial Portal for distribution of data to its users.
Financial Analysis
$235,000 per year for 3 years is required to fund the imagery data service acquisition. All funds will come from state, local and tribal entities.
There is a cost savings to state agencies because of the partnering and sharing with local and tribal entities.
The imagery data services investigation was influenced by the E9-1-1 community and the WA County & City Officials (WACCO) Association inquires.
Presently there are 20 funding contributors with the potential of adding upwards of 20 more in the future.
Program Costs
The data will be hosted on the GeoPortal which is an allocated service. Additional disk space will be added to the state GeoPortal to host the 1foot imagery and the first 24 months is covered by the OCIO. Subsequent funding will be needed for subsequent years.
Data Support Costs
Data support of the 1 foot imagery is provided by Portal Steering Committee staff and hosting is provided on Geospatial Portal at no additional cost. Annual invoices and the imagery data service contract renewals are the only ongoing purchasing support costs to WaTech.
Total Cost Estimate: $235,000 per year - Need to sign a 3rd year contract to acquire use of 1 foot data in perpetuity.