Contact
If you would like more information on a particular board, committee or advisory/user group, please contact governance@watech.wa.gov.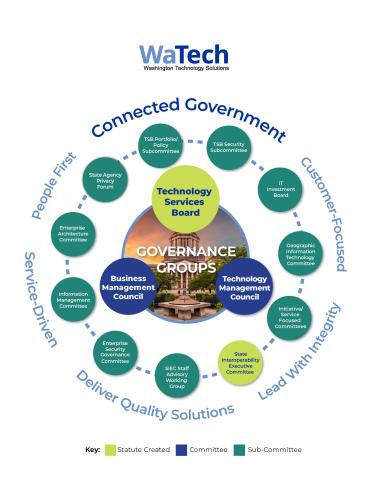 WaTech maintains and supports an information technology enterprise governance and advisory framework that focuses on state priorities, policies, strategies and objectives. These groups meet on a regular basis to provide guidance and steering for strategic vision and planning for enterprise IT initiatives and projects.
Public Boards
The TSB was created by RCW 43.105.285.The TSB focuses primarily on statewide information technology (IT) strategic vision and planning, enterprise architecture, policy and standards, and major project oversight.
Subcommittees:
TSB Portfolio/Policy Subcommittee
TSB Security Subcommittee
The SIEC was established on October 1, 2011 by RCW 43.105.331. The SIEC develops policies and makes recommendations for technical standards for state wireless radio communications systems, including emergency communications systems.
Subcommittees:
---
Enterprise Governance Groups
These governance groups inform and enable statewide information technology strategy for Washington through inclusive collaboration, openness, transparency and accountability. The boards, committees, advisory and user groups are open to Washington state agencies, county, city and Tribal governments, and public-benefit nonprofits and their staff.
BOARDS
COMMITTEES
ADVISORY/USER GROUPS

Business Management Council

Technology Investment Board

Technology Management Council

Accessibility Subcommittee
Cloud Enablement Advisory Committee (CEAC)
Cloud Highway Steering Committee
Enterprise Active Directory Steering Committee (EAD)
Enterprise Architecture Committee
Enterprise Cloud Computing
Enterprise Security Governance
Geographic Information Technology (GIT) Committee
Information Management Committee
Open Data Advisory Group
State Agency Privacy Forum
Technology Business Management (TBM) Group
Washington State Geographic Information Council (WAGIC)
WaTech Advisory Council (WAC)

Discovery Accelerator Users Group
Forest Applications Developer (FAD)
Forest Resource Group (FRG)
Geospatial Portal Steering Committee
Office 365 Users Group
Project Steering Committees
SecureAccess WA Technical and Business Advisory Group
Secure Gateway Services Fireside Chat
Washington Master Addressing Steering Committee (WAMAS)