Strategic Enterprise IT Plan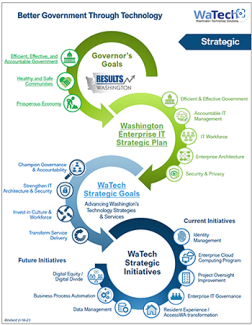 Visit our Strategic Planning page to learn about our state's Enterprise IT Strategic Plan.
Before diving into the individual service action plans below, we encourage you to read this executive summary describing the value and intent of this work, how it ties in with the overall IT strategy for our state, and how this initiative continues our efforts to address IT service gaps while improving service delivery.
These service action plans provide a high-level overview of our current offering of services, and are designed to help your organization understand each service more fully so you can make informed decisions about your strategy.