Transform public service through a connected government
WaTech's strategic planning is focused on aligning technology strategy with the governor's goals, the Washington Enterprise IT Strategic Plan, and agency strategic goals and initiatives. Our Strategic Plan is the foundation of our internal goals and priorities as an agency. The Strategic Plan aligns our goals and priorities with our mission, vision and guiding principles.
Two key documents provide the strategic direction for the agency - the Strategic Roadmap and Strategy Map. These are our tactical plans for delivering on our strategic plan.
WaTech Strategic Roadmap
WaTech began its strategic planning in 2019, developing the 2019-2022 Strategic Roadmap and publishing it on Aug. 1, 2019. The Strategic Roadmap is the blueprint that guides the agency's strategic goals and initiatives.
The 2021-2023 Strategic Roadmap was updated and expanded in late 2021 and takes a more comprehensive view to include all WaTech's external facing initiatives across key domains. Cybersecurity and cloud computing policies, risk and security protection/management, and the expansion, decommissioning and modernization of WaTech services are key drivers.
With the 2021-2023 Strategic Roadmap in place, WaTech will be able to accelerate the state's cloud architecture, modernize and expand services and delivery, and establish stronger security and privacy protections.
See the progress we've made on the 2021-2023 Strategic Roadmap: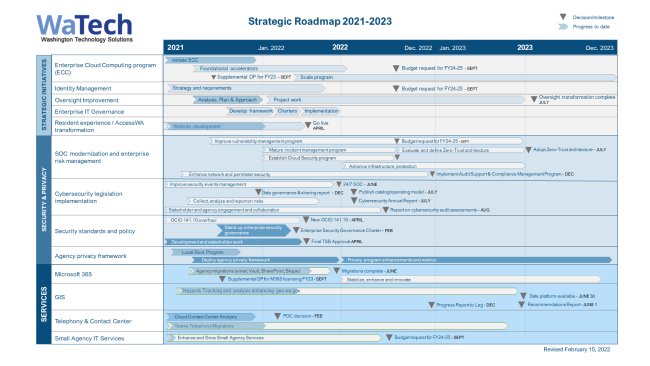 WaTech Strategy Map
WaTech's Strategy Map outlines the linkages of the agency's current and future initiatives with the governor's goals and the Washington Enterprise IT Strategic Plan.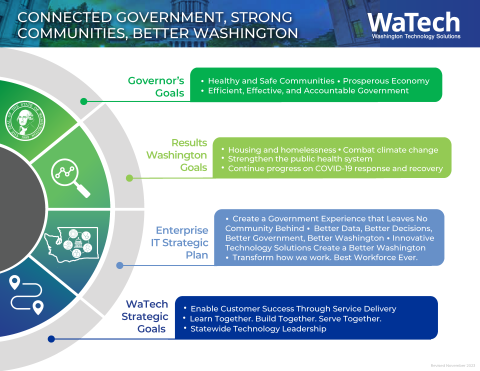 Service action plans
Our service action plans provide a high-level overview of our current offering of services, and describe where we have established meaningful goals to improve, expand, contain or discontinue our services. These action plans are designed to help your organization understand each service more fully and make informed decisions about your IT strategy.
View our Service Action Plan page.