Related links
Cybersecurity polices
About
OCS provides strategic direction for cybersecurity and protects the state government network from growing cyber threats. The office's team of cybersecurity experts, detect, block and respond to cyberattacks on state networks. The office helps prevent and mitigate threats before they can cause significant damage.
In addition, OCS works with state, local government and military agencies to build more secure networks and has teams that can respond on a moment's notice to help agencies deal with cyber threats.
Our office also is working to make everyone more aware of cyber threats through educational outreach, holding public forums and providing tips and advice about how to stay safe online.
---
Our Vision:
A trusted national model for the protection of information ecosystems.
Our Mission:
To promote and facilitate effective information protection by providing the necessary resources, expertise, and support to achieve the goals of Washington state, thereby ensuring the safety and security of our agencies and residents.
---
State Chief Information Security Officer (CISO)
Ralph Johnson CISSP, HISP, CISM, CIPP/US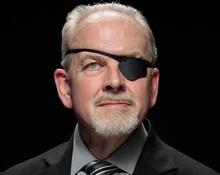 As Washington state's Chief Information Security Officer (CISO), Ralph Johnson is responsible for establishing and leading the strategic direction of cybersecurity and advising the state Chief Information Officer (CIO) and agency leaders on key cyber issues.
Ralph oversees the Office of Cybersecurity and its team of cybersecurity experts who detect, block, and respond to cyber threats. The office also works to prevent and mitigate future risks through proactive steps to continually strengthen the state's security posture.
Since 2005, Ralph has held several positions as CISO. He supported the Los Angeles Times and the San Diego Union-Tribune through his position as CISO of NantMedia Holdings LLC. He also has served as CISO of Los Angeles county in California and King county in Washington. In King County, he held a dual role as the county's Privacy Officer. His breadth of knowledge as a Holistic Information Security Practitioner (HISP) and more than 28 years of experience in information technology provides a foundation of excellence in managing risk.
---
Directory of OCS services: