Related Links
Monthly Updates Archive
Quarterly Updates Archive
ECCP update October 2023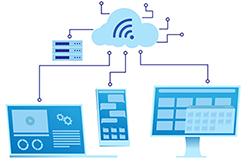 Organizational Staffing: Hired an Enterprise Cloud Program Manager to begin in October. Welcome, Chris Lamb! Also developed a position description to contract a Project Manager/Scrum Master for the Foundations workstream.  
Foundational Services: Worked on one-pager explaining Foundations strategic goal to be published to the web. 
Workforce and Training: Enterprise Cloud Steering Committee approved cloud training personas. Also continued meeting with vendors and partners at DES to learn about how vendor systems would work with the state's learning management system and completed contracting process to bring vendor onboard for workforce readiness project and selected 18 agencies to participate. 
Consulting, Brokerage, and Marketplace: Met with contacts at LA County to learn about their experience developing a cloud marketplace. Also developed business requirements for assessing cloud financial reporting tools. This includes items such as ability to analyze data from multiple cloud service providers, budget alerts, forecasting, and ability to develop views for specific stakeholders.  
Enterprise Data Platform: Cloud team members have joined the Enterprise Data Platform project to help develop a cloud-based enterprise data platform. The project will work with Results Washington to pilot a data platform to create and publish data visualizations.  
---
Accomplishments for second quarter 2023 
Organizational staffing: The ECCP hired a Cloud Architect in May 2023. Welcome Jason Niemi!  
The Cloud Center of Excellence Portal & Content: WaTech completed moving the prototype to the state SharePoint Tenant. Further work is on hold while the team adjusts priorities and resources.
Cloud Capability Model (CCM): The team completed initial data collection and version 1 of the Cloud Capability Model. Workstream two is nearing completion as the Cloud Capability Model has been moved from PowerPoint to SharpCloud. The team is currently working on a value proposition.
Workforce Readiness and Training: Washington State Human Resources sent out a survey to state agencies gathering data about cloud-related positions and capabilities. They are in the process of reviewing and analyzing the data.  
---
About the ECCP
The Enterprise Cloud Computing Program (ECCP) was created by WaTech to provide leadership, governance, guidance, and resources to accelerate the strategic adoption of cloud technologies across Washington state government.
The overall mission of the ECCP is to accelerate efforts to modernize and transform the state information technology services that Washingtonians require by embracing cloud technology. This is an integral part of WaTech's efforts to create a "connected government" where residents and visitors can access state government services more easily and directly, whether it's getting a license, accessing public health resources, or bidding on a government project.
The program is the outgrowth of a statewide cloud readiness assessment the Office of the Chief Information Officer provided at the Legislature's direction in 2020.
Our Vision: A secure, scalable, and interoperable statewide cloud ecosystem to accelerate agency modernization and provide strategic goals to meet the dynamic needs of Washingtonians.
Our Mission: To modernize and migrate the state's information technology assets to cloud services to accelerate the transformation of critical services for Washingtonians.
The ECC's mission has three focus areas:
Enable the adoption of cloud technologies - including the development and governance of the state's cloud architecture, policies, and standards - by providing statewide leadership and expert resources.
Implement a cloud services brokerage function that helps agencies identify and acquire the best solutions at the best prices, and ensures cloud investments are operated securely, efficiently, and in compliance with the state's IT policies and strategic plan.
Use contracted resources to help agencies identify migration candidates and to plan and implement migration projects.
Program Goals
Accelerate the modernization of government services by adopting and committing to scalable and sustainable adoption of cloud solutions.
Enhance statewide security and resilience using cloud platforms, tools, architectures, and standards.
Shift from a capital expenditure to an operational expenditure model for state IT investment. This would reduce large upfront investments and provide predictable ongoing expenses by paying only for what's used and then scale when needed.
Improve and optimize cloud operating costs by leveraging pricing at an enterprise scale, with master contracts, centralized services, and transparent "pay as you go" cost metrics.