Happy New Year! And Happy Data Privacy Week!
Data Privacy Day Events:
Data Privacy Week helps spread awareness about online privacy and educates people on how to manage their personal information and keep it secure. The celebration culminates with Data Privacy Day on Jan. 28. We are excited to share Governor Inslee's proclamation to recognize the day in Washington.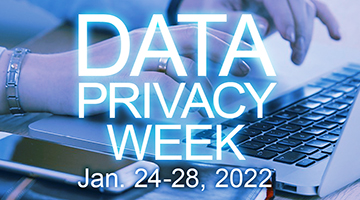 We are also happy to celebrate the day on the OPDP website with messages from many other elected leaders in Washington recognizing the importance of data privacy.
OPDP is hosting a webinar on Thursday, Jan. 27 - from 10-11 a.m. - to give a presentation on legislative trends at the state and federal level and share messages from lawmakers. If you are interested in attending this virtual event, please email privacy@ocio.wa.gov to receive the WebEx link and invitation. The presentation will be recorded and will be our website next month if you are unable to attend.
OPDP also will host an online Kahoot! data privacy quiz game on Jan. 28 at 10 a.m. and will answer questions and provide information on the Washington State Agency Privacy Principles. For the Teams invite, please email privacy@ocio.wa.gov.
Legislative Session:
The legislative session has kicked off virtually again this year with several bills tackling privacy issues. Many of the bills are up for hearing this week in both chambers. OPDP is following over 30 bills, including measures that would expand OPDP responsibility, address consumer privacy, create a new privacy commission in Washington, and new proposed exemptions to the public records act.
News items that caught OPDP's attention this month include:
See you next year with more updates from our office!
Katy Ruckle
State Chief Privacy Officer