Washington Technology Solutions (WaTech) has launched a new website - WA.gov - to improve the way residents and visitors find information about and access Washington state government. The new site replaces Access Washington, a website portal developed in 1998.
WA.gov features an updated look and feel, and new features such as "how-to" guides that will make it easier to do everything from becoming a resident, to voting in elections or exploring the state's parks and trails. It is also more accessible, mobile-friendly, and user focused. It offers information by topic and audience, including a large section with information and resources for people with disabilities. (The last major upgrade to Access Washington was in 2012, so the site was far behind current behind website standards).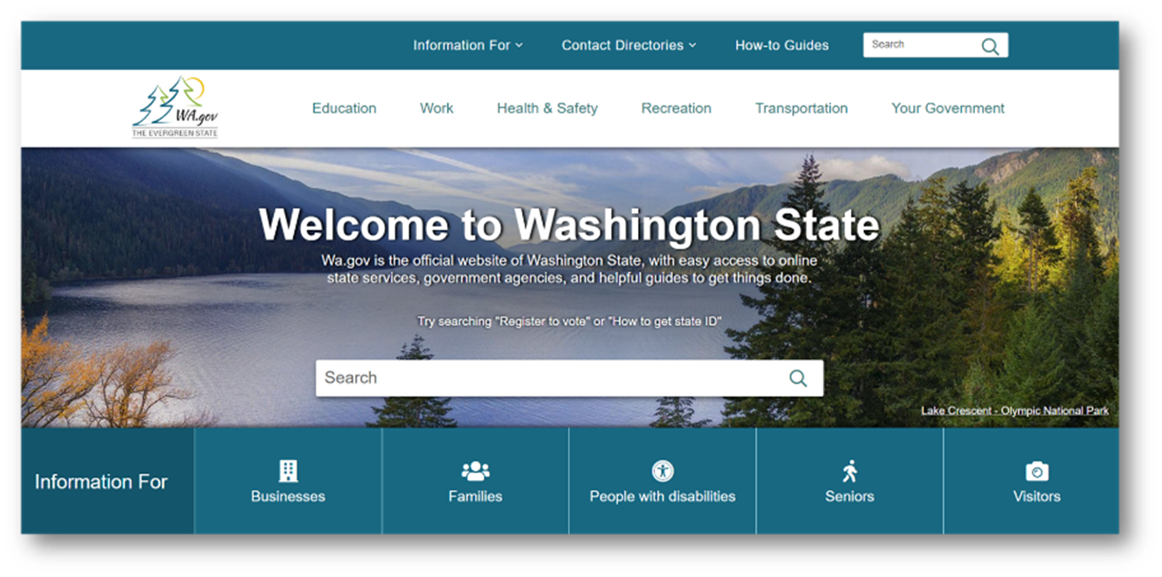 The new WA.gov is the first step in WaTech's initiative to develop a more 'connected government' - one where residents and visitors can access state government services more easily and directly, whether it's getting a license, accessing public health resources, or bidding on a government project.
"Wa.gov represents a step forward to providing a trusted front door for residents to access government information and services similar to digital experiences provided by the private sector," said State CIO and WaTech Director Bill Kehoe. "We want our residents' experience when interacting with their government to be seamless and effortless, without the friction of having to understand how the state is organized to apply for services or determine eligibility."
The new site was developed with feedback from several hundred Washington residents who participated in user research and usability testing activities. There is also an advisory committee with more than 15 state agencies represented.
"The new WA.gov is really a starting point for many future enhancements," said Wendy Wickstrom, WaTech's Web and User Experience Manager, whose team of developers designed WA.gov. The site will be steadily upgraded to offer more features in the coming months which will include multiple language translations, geographic information systems (such as wildfire maps), personalized and localized content, and much more, until it reaches the ultimate vision of a connected government.
Even then, the site will always be a work in progress, looking for new ways to meet the needs of Washingtonians.